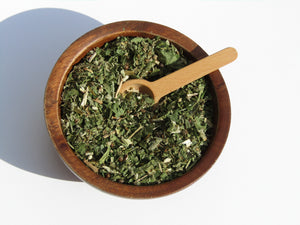 This distinguishing blend is mostly called upon for its assistance with that time of the month, relieving pressure and getting rid of pesky cramps. The women rhythm tea blend is a rich, healthy, and delicious choice when battling fatigue and even grouchiness. The gentle flavors of raspberry and spearmint compliment the more earthy notes of marshmallow, valerian, and skullcap. This effective blend is sure to smooth the monthly ebb and flow of the body while promoting a healthy mental and emotional state
Comes in resealable kraft bag with 1 oz of loose tea. 
Size: Large 1.00 oz (28 grams) or about 20-35 tea cups approximal.

Take 1 TSP of loose leaf tea and place into a strainer ball or an empty tea bag and steep in 8 oz of boiling hot water, stirring often (typically 5-15 minutes until color of hot water changes and aroma of tea fills the room). Add honey and sugar to taste. Tea can taste bitter if steeped too long. 10-15 minute max steeping time.