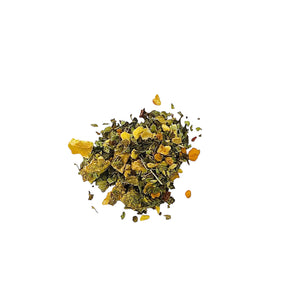 Anti-Inflammatory Power: Both ginger and turmeric are known for their potent anti-inflammatory properties. Sip on this tea to help ease inflammation in your body. Boosted Immunity: Packed with antioxidants, this tea can give your immune system a well-deserved boost, helping you stay resilient year-round. Digestive Harmony: Bid farewell to digestive discomfort! Ginger and turmeric collaborate to promote healthy digestion and ease bloating. Brain Health: Turmeric contains compounds that support cognitive function, potentially enhancing memory and brain health. Radiant Skin: Antioxidants in this tea contribute to skin health, giving you that natural glow from the inside out.
Comes in resealable kraft bag with 1 oz of loose tea. 
Size: Large 1.00 oz (28 grams) or about 20-35 teacups approximal.

Take 1 TSP of loose-leaf tea and place into a strainer ball or an empty tea bag and steep in 8 oz of boiling hot water, stirring often (typically 5-15 minutes until color of hot water changes and aroma of tea fills the room). Add honey and sugar to taste. Tea can taste bitter if steeped too long. 10–15-minute max steeping time.