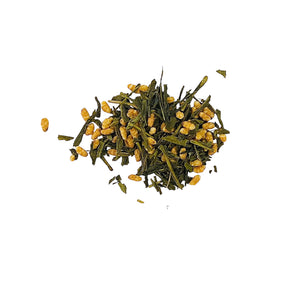 Gentle Energy Boost: Genmaicha combines green tea's natural caffeine with the soothing qualities of roasted brown rice, giving you a gentle and sustained energy lift. Rich in Antioxidants: Packed with antioxidants, this tea helps combat free radicals, promoting overall health and wellness. Digestive Support: The roasted rice in Genmaicha can aid digestion and provide comfort to your tummy. Low in Caffeine: If you're looking for a lighter caffeine option, Genmaicha is a great choice due to its lower caffeine content.
Comes in resealable kraft bag with 1 oz of loose tea. 
Size: Large 1.00 oz (28 grams) or about 20-35 tea cups approximal.

Take 1 TSP of loose leaf tea and place into a strainer ball or an empty tea bag and steep in 8 oz of boiling hot water, stirring often (typically 5-15 minutes until color of hot water changes and aroma of tea fills the room). Add honey and sugar to taste. Tea can taste bitter if steeped too long. 10-15 minute max steeping time.