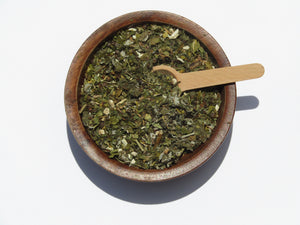 Uplifting, earthy, and deep green. This certified organic infusion features nervous system-nourishing nettle, and mood enhancing herbs like St. John's wort and damiana leaf for those days you're feeling down. Soothe stress and brighten your spirit with this minty, herbaceous cup of sunshine. 
Comes in resealable kraft bag with 1 oz of loose tea. 
Size: Large 1.00 oz (28 grams) or about 20-35 tea cups approximal.

Take 1 TSP of loose leaf tea and place into a strainer ball or an empty tea bag and steep in 8 oz of boiling hot water, stirring often (typically 5-15 minutes until color of hot water changes and aroma of tea fills the room). Add honey and sugar to taste. Tea can taste bitter if steeped too long. 10-15 minute max steeping time.