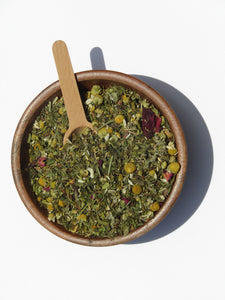 Ancient dream tea is an infusion blend is based on an ancient formula. Especially blended for the dreamer, it is believed to stimulate vivid and easily recalled dreams. Mugwort is believed to increase the frequency and clarity of dreams, and it is also popular with lucid dreamers. Chamomile helps you relax and get to sleep more quickly, while peppermint improves the taste of the dream tea and has also been associated with dreams. The light, minty flavor is enjoyable after a rich or large dinner, or a perfect night-cap after a long day.
Comes in resealable kraft bag with 1 oz of loose tea. 
Size: Large 1.00 oz (28 grams) or about 20-35 tea cups approximal.

Take 1 TSP of loose leaf tea and place into a strainer ball or an empty tea bag and steep in 8 oz of boiling hot water, stirring often (typically 5-15 minutes until color of hot water changes and aroma of tea fills the room). Add honey and sugar to taste. Tea can taste bitter if steeped too long. 10-15 minute max steeping time.