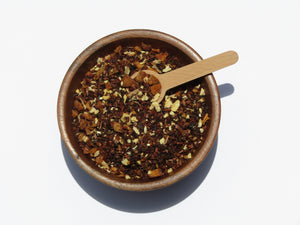 Tummy tammer tea is mostly used as a remedy for colds, sore throat and cough. But it is also very helpful in indigestion, stomach-ache and even diarrhea. This sweet tea is also recommended for pregnancy nausea. But it also remedies motion sickness. It is also a great remedy for arthritis and joint or muscle pain. This tea is often recommended for osteoarthritis. The compounds in Ginger Peach Tea improve the blood circulation in the body. And it is delicious due to the peach flavor.
Comes in resealable kraft bag with 1 oz of loose tea. 
Size: Large 1.00 oz (28 grams) or about 20-35 tea cups approximal.

Take 1 TSP of loose leaf tea and place into a strainer ball or an empty tea bag and steep in 8 oz of boiling hot water, stirring often (typically 5-15 minutes until color of hot water changes and aroma of tea fills the room). Add honey and sugar to taste. Tea can taste bitter if steeped too long. 10-15 minute max steeping time.