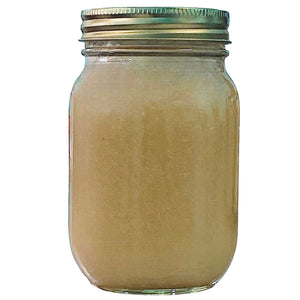 This SUPER-FOOD contains 92 minerals of the 102 minerals that the human body consists of. Such as zinc, iodine, iron, calcium, potassium, B-complex vitamins, sodium, sulfur, silicon, and iron. It also contains small amounts of selenium, phosphorus, zinc, manganese and vitamins A, E, C, D, K and a host of others that are vital for our daily survival. The Consistency of our prepared Sea Moss is easily digested. Its a smooth thick applesauce texture in which it is easy to mix with smoothies, juices, teas, coffee, recipes, with easy.
Directions: take 1-2 tablespoons each day. Refrigerate immediately upon receipt. Product should last for 3-4 weeks refrigerated. May freeze up to 6-12 months.
16oz bag for easy use.
IMPORTANT DISCLAIMER: Not a medical professional. Use as desired.