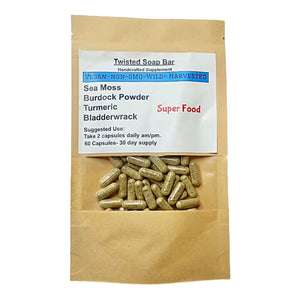 Sea Moss, Bladderwrack, Turmeric, Burdock powder in a capsule form. These capsules are made with handcrafted herbs which are totally vegan. These capsules are used as supplements which contain 90+ minerals like Riboflavin, sulfur, sodium, potassium, carotene, manganese, zinc, folate, iron, copper, vitamin c, calcium, magnesium, phosphorous, niacin, and iodine. Turmeric adds an extra boost as well, known for helping type 2 Diabetes, Viral Infections, Premenstrual Syndrome, High Cholesterol, Alzheimer's Disease, Arthritis, Pain relief.


These capsules may help you in maintaining thyroid function, removing fat from body and intestines and increases appetite. It also helps in regulating the metabolism and energy of the body.
60 Capsules. Take 2 daily. 1 in am/1 in pm.
Disclaimer: Not a medical professional used as desired.