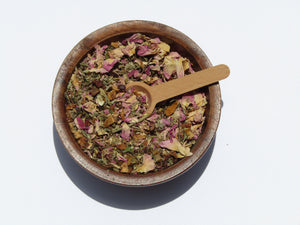 LOVE YOURSELF IS THE BEST LOVE!!
The inspiration for many poets, artists and dreamers, it has even been said that love is all you need. The florally sweet flavor of this herbal blend will arouse your senses and melt away your cares- allowing your heart to become immersed in all that it holds dear.
Comes in resealable kraft bag with 1 oz of loose tea. 
Size: Large 1.00 oz (28 grams) or about 20-35 tea cups approximal.

Take 1 TSP of loose leaf tea and place into a strainer ball or an empty tea bag and steep in 8 oz of boiling hot water, stirring often (typically 5-15 minutes until color of hot water changes and aroma of tea fills the room). Add honey and sugar to taste. Tea can taste bitter if steeped too long. 10-15 minute max steeping time.