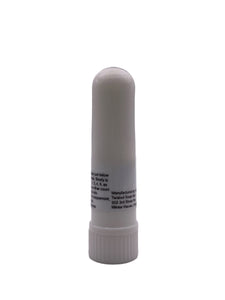 Booger Blaster to the rescue when the common cold has you congested and miserable. Great for allergies and inflamed nasal passages.
Our Booger Blaster is a great way to enjoy the benefits of essential oils without applying them directly to your skin. It is simple and easy to use - breathing in the aromatic oils helps your body to absorb and utilize the natural benefits of essential oils. 
Our inhalers are made right in our shop so we can control what goes into our products: the best. Always organic, always natural, always chemical free.

 When needed, simply remove the plastic cover and breathe in deeply for 10 seconds, then repeat in the other nostril. Use as needed. We always focus on medicinal strength, so a little goes a long way.

• We are not doctors. These statements have not been evaluated by the Food and Drug Administration. This product is not intended to diagnose, treat, cure, or prevent any disease. •