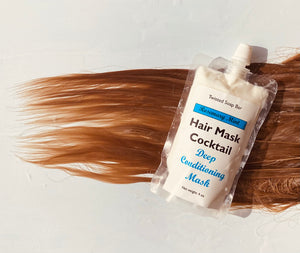 Our Hair Mask Cocktail is a cocktail of raw butters, virgin ingredients and science at the highest level. This mask delivers the most sumptuous, lustrous and textured hair from the very first use. Great for all hair types. 
Directions: Apply to clean, wet hair. Spread evenly through sections of hair, from roots to tips. Leave on for at least 20 minutes depending on hair's condition, the longer the better. For optimal results, cover head with hot towel for 10 minutes. Rinse gently with cool water. For damaged hair, leave on overnight with a hair wrap. Use 1-2 times weekly depending on your preferences. 
Scented in Rosemary mint essential to encourage hair growth.

Ingredients: : Aqua, Cetearyl Alcohol, PEG-40 (Hydrogenated) Castor Oil, Castor Oil, Stearalkonium Chloride, Glycerin, Cetyl Alcohol, Shea Butter, Almond Oil, Mango Butter, Cupuaca Butter, Jojoba Oil, Broccoli Seed Oil, Argan Oil, Panthenol, Essential Oil, Natural Preservative.